Unlocking productivity with monitor.ID
Keep track of your production line's performance with critical analytics and system alerts that reduce costs and increase efficiency, from product to pallet.
Get to know our
monitor.ID software solution
By offering cloud-based monitoring and data analytics for PID hardware, monitor.ID supports customers in preventing unexpected downtime and optimizing production efficiency. A user-based dashboard provides the operator with a status overview of all devices.
Overall performance indicator​
Uptime & Downtime dashboard showing the statuses on a timeline
Data-driven analysis of PID hardware uptime and down time.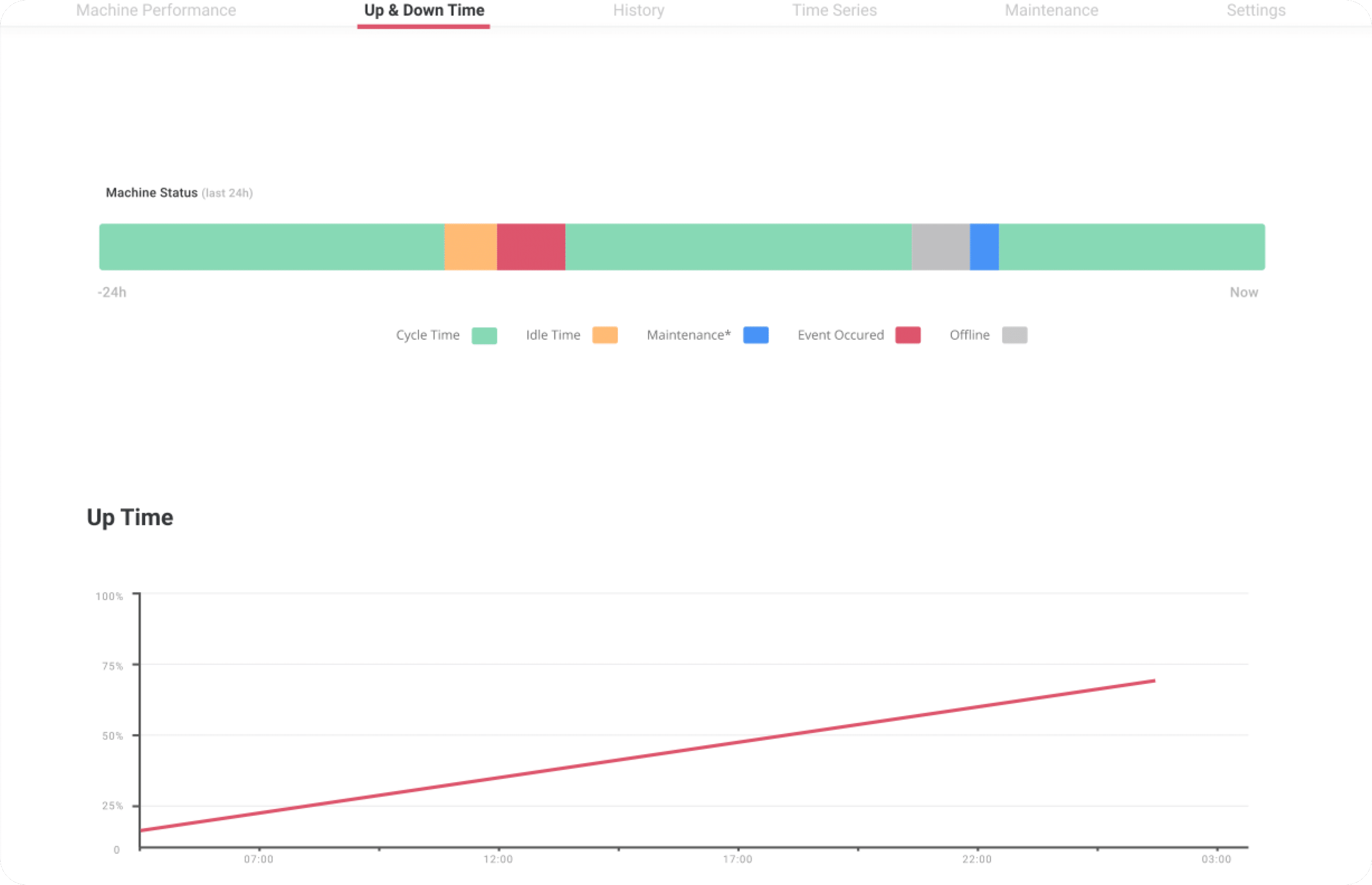 Status bar showing the status over a period of time
Up Time over a period in time
Advised maintenance plan including timeline
3 maintenance levels including a checklist & instructions
Operator maintenance
Technical maintenance
Expert maintenance
Take care of your machines with our preventive maintenance plan
A maintenance countdown display and a timeline showing when the next maintenance is due not only ensure that you don't miss any maintenance, you can also coordinate your production schedule with maintenance cycles to avoid unplanned downtime.
Our experts have defined 3 maintenance levels, each with detailed descriptions and checklists to ensure all necessary actions are executed.
The levels include:
Get Started
---
monitor.ID hardware partners
Customers with hardware from one or more PID companies can enjoy free access to monitor.ID. Please keep in mind that the software does not support hardware from other manufacturers.
Simply connect your compatible PID Hardware & let monitor.ID do it's work! We are offering various ways to connect the PID Hardware:
Direct connection
The PID Hardware is getting connected through a direct connection and starts uploading data in a secure way onto the platform.
Edge software
We also offer EDGE Software that can run on a computer or server that is collecting the machine data and transfers it to the monitor.ID platform. The ideal solution when the production network doesn't allow any outside connections or when you want to connect multiple devices and want to prevent multiple connections.
Edge software on the PID Hardware
With compatible PID Hardware, the Edge software could be installed inside the hardware to collect the machine data from all PID Hardware devices before uploading them to the monitor.ID platform. This allows connecting multiple devices but only one connection to the monitor.ID platform is required without the need for a separate EDGE installation.
CONNECT YOUR HARDWARE NOW
You have PID hardware and would like to benefit from our monitor.ID software? Request access via our application form.
Frequently Asked Questions
Still curious about our roots and background? Take a look at the FAQs section below where we have provided answers to the most important questions. If you require further information, please don't hesitate to contact us.
PID 3SIXTY is, with manage.ID & monitor.ID, a complete software that lets you control the entire product identification process. monitor.ID creates transparency on the performance & maintenance needs of the PID hardware to simultaneously increase efficiency and avoid unplanned downtime.

PID 3SIXTY is part of the Possehl Identification Solutions group which, next to software, offers a complete range of product identification solutions which means that you can trust us to cover all product identification needs and not only for software.